Share this URL: https://bitcoinmalaysiafastpass002.peatix.com/
Event is FINISHED
[Webinar] BitcoinMalaysia FASTPASS | Full Day Cryptocurrency Online Workshop for Beginners
In One Day, you will walk away with
A deep understanding why does crypto have value?
How NOT to lose money in the cryptocurrency space
How to identify the FAKE and capture REAL opportunities quickly
How to protect your cryptocurrency funds & NOT lose them
Understanding the clear difference between cryptocurrency v stocks v forex
The best tools you MUST use to protect and prepare yourself for crypto
A clear map of income making opportunities in the world of crypto
Why are we doing this workshop?

3 reasons:

Cryptocurrency is scary and high risk.
It is scary because it is new and there are a lot of scammers. And the bulk of high risk comes from lack of education. Most people do not know simple things like 'not your keys, not your coins'. As more Malaysians gain knowledge and become familiar with crypto, it is better. Just like how you don't need a workshop to learn email today... if we are successful, this workshop will not be needed anymore in the next 5 years.

Help Malaysians grow income.
In ten short years, the market capitalization of this sector has grown from nothing to US$250 billion. And although volatile, is provably on an upward trend. If you're looking to increase income, there are a lot of income opportunities here. But you firstly need to:


Know how to spot the FAKE and reject them;
So that you can focus your attention on the REAL ones.
Next, you need to prepare yourself to receive the opportunities.

When enough education, we can also attract investment into Malaysia. Ethereum, EOS, Maker, Tezos, COSMOS, Cardano, Algorand might sound like strange company names today but are well funded projects and potentially become the Google & Amazons of tomorrow. Success is when more Malaysians are ready to receive jobs from these organisations of the future!

It's not enough to know, it's important to do.
We've been working on this a long time. Organizing more than 100 free talks over the last 3 years, we realize there is only so much people can learn from listening to a talk. Malaysians need experiential learning.



About this workshop

This workshop is about loss aversion and preparing you correctly before you enter the $250 billion crypto industry.

Because thousands of Malaysians have "jumped" into crypto and lost money. The bad taste (usually due to scam or a poor decision) blinds them from capturing the REAL opportunities happening in the space.

The first half of day will be about 'Protection' - the right mindset and tools you MUST have to setup your 'Captain America' shield so that you are prepared, feel safe and confident to make income in crypto.

The second half of day will be about 'Attack' - the right mindset and tools you MUST have to setup your 'Iron Man Weapon' so that you can understand yourself and what weapon is right for you to make income in crypto.



Why is the course fee so cheap?

A one day workshop of the quality we wish to deliver typically costs RM 2,000 per person in Kuala Lumpur.

This workshop is priced at RM 500 and includes some real crypto during the workshop to give you a genuine learning experience.

We want to make this workshop accessible to as many Malaysians as possible.

The only way we can make this workshop low price and still sustainable is if we have a lot of students at one go.


Our goal is 200 pax.

We also have early bird discounts - so do sign up now.

If you'd like a referral bonus for helping us achieve our goal, please text Jason +6016 314 3113 for the incentivization model.



Webinar


Time: 10.00 am - 6.00 pm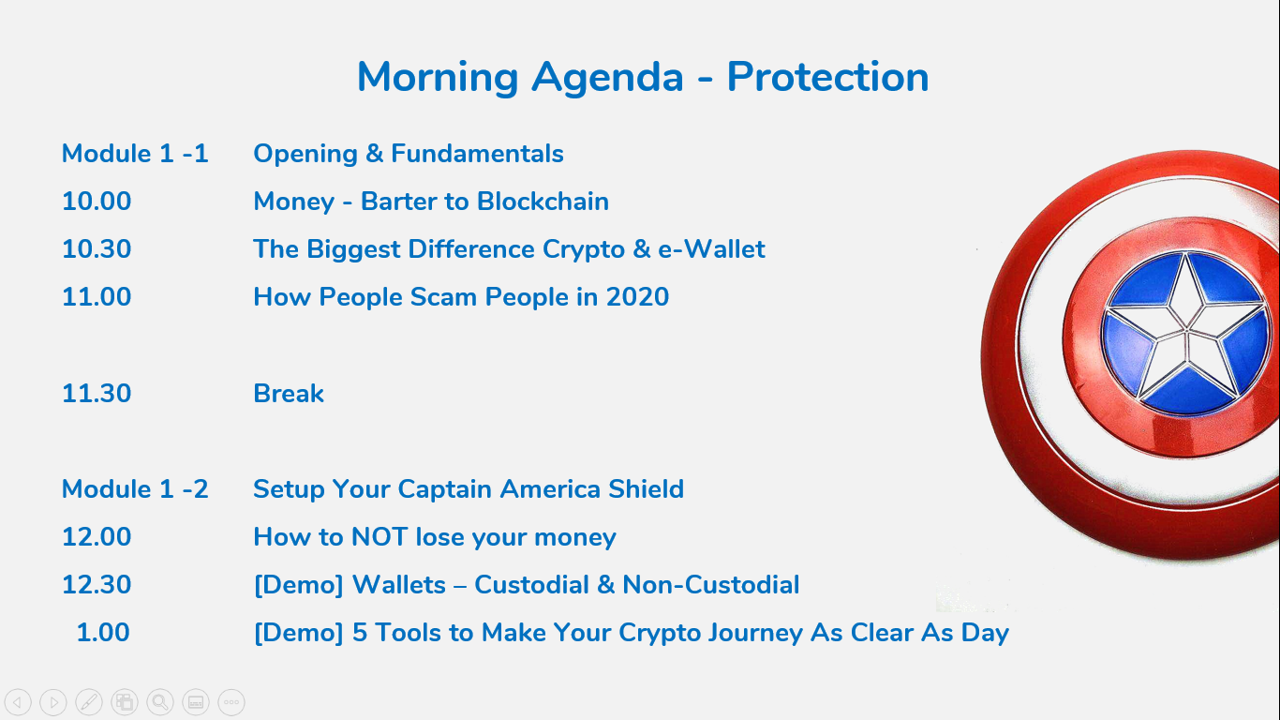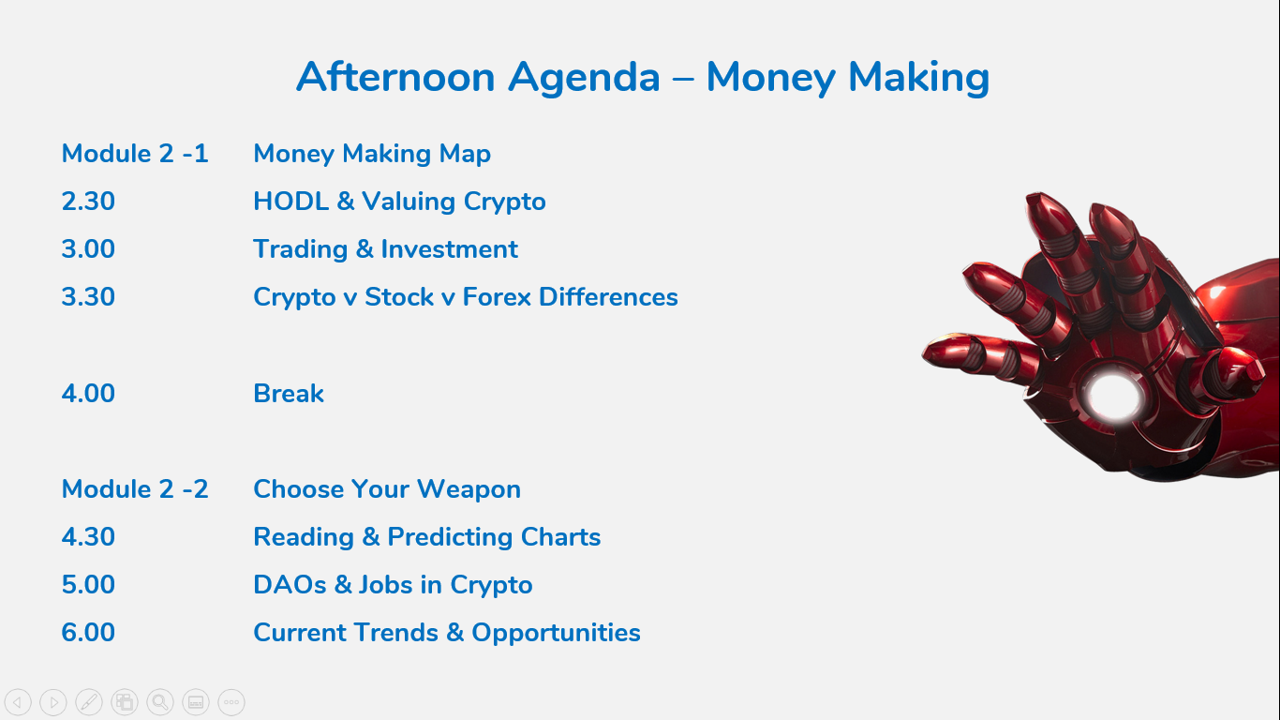 Read more
Sat

May 2, 2020
10:00 AM
-
6:00 PM
MYT
Add to Calendar
Venue

Online event
Tickets

Super Early Bird

SOLD OUT

RM350.00

Early Bird

SOLD OUT

RM400.00

Final Early Bird

SOLD OUT

RM450.00

Standard Ticket

SOLD OUT

RM500.00
Organizer